The MAGLEV 2018 Conference
Russia, St. Petersburg


Together with MTST 2018 Conference




September 5 - 8, 2018
Statue of the Russian poet and novelist A. S. Pushkin in St. Petersburg
The 24th International Conference on Magnetically Levitated Systems and Linear Drives, MAGLEV 2018, will be held in St. Petersburg, Russia, at the famous Emperor Alexander I. St. Petersburg State Transport University (PGUPS).  The conference will take place together with the Russian MTST 2018 (Maglev) conference and is organized under the auspices of the International Maglev Board (IMB).
Maglev 2018 conference events (lectures, presentations) will take place from September 5 – 7, 2018.
Technical excursions will be held on September 8. From September 7 - 8 the participants will also have the opportunity to join a sophisticated cultural program in St. Petersburg.
The Maglev 2018 conference addresses experts, public officials, decision-makers, planners, scientists, students and interested citizens who would support a constructive, critical discussion on the prospects and limitations of magnetic levitation technologies and linear motors applied in transport and industry.
 

The MAGLEV 2018 Conference Website
Topics:
High-speed maglev

Urban maglev

Cargo maglev

Magnetic Levitation and Guidance in Transport

Energy Storage and Supply

Linear motors

Superconductors, application of superconductivity

Permanent magnets 

Guideway and Infrastructure Technologies

Reliability, Safety and Operational Control

Maglev Elevators and Escalators; Magnetic Bearings, Maglev Wind Turbines

New Ideas on Levitating Device Applications.

Standardization issues

Economical aspects of Maglev

Health and environmental issues (electromagnetic fields, noise, vibrations)

Influence on regional and urban development, architecture

Transport policy issues, maglev marketing, aspects of transport psychology

History of development of maglev transport

Project status reports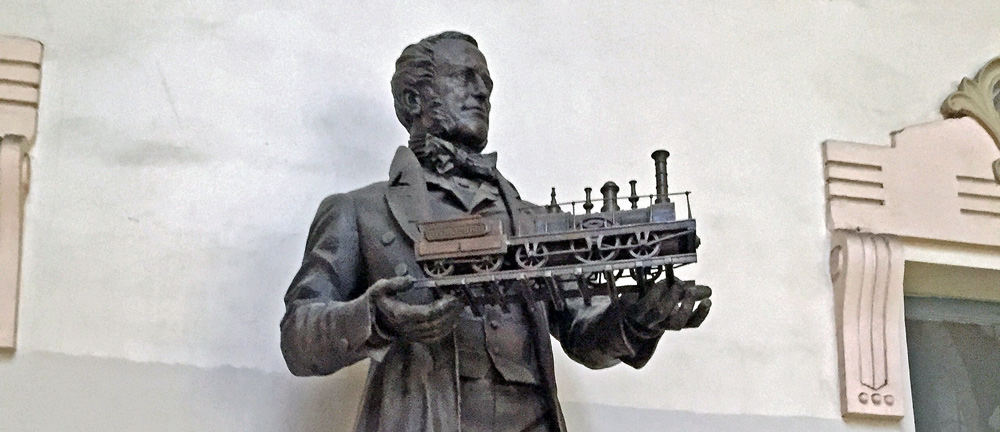 Franz Anton von Gerstner, planner of the first Russian railway line, the Tsarskoye Selo Railway in St. Petersburg.
Call for Abstracts / Papers / Posters
Conference papers will be accepted based on an abstract of no more than 300 words. Each abstract will undergo a review by experts chosen from the International Maglev Board and the Russian National Steering Committee. Evaluation, selection, and topic clustering will be done according to the criteria of scientific quality and relevance, meaning for theory and practice as well as originality and degree of innovation. Authors of accepted abstracts will be informed on February 20, 2018.

To upload your abstracts, please make use of this template:


The prerequisite for all presentations is a respective Conference Paper with an English summary, based on the required abstract.
All accepted conference papers are set to be published in the journal "Transportation systems and technology," ISSN 2413-9203.
Conference Languages
The main language is English. However, special "focus sessions" of the conference might be held in Russian or Chinese.
Important Dates
November 2017: 1st Call for Papers.

December 2018: Early Bird Registration starts

February 10, 2018:

Deadline for submission of abstracts.

February 20, 2018: Notification of successful abstracts.

March 1, 2018: Early-Bird registration ends.

August 10, 2018: Deadline for submission of final papers.

September 1, 2018 – close of registration for the Conference

September 5, 2018: first conference day of Maglev 2018

September 8, 2018: technical tours day of Maglev 2018 
Visa, Hotels and Travel Support
The official hotel of the Conference is the Hotel "AZIMUT", Saint Petersburg: https://en.azimuthotels.com/Russia/azimut-hotel-saint-petersburg/
For the period from September 4 - September 10, 2018, a special rate is available for participants. The promotion code is  maglev18 . The code is valid until March 1st, midnight.

For guests who arrive at Pulkovo Airport, free shuttle transfers to the Hotel "Azimut" will be available.

The organizers are also ready to assist you with visa applications. They will provide an official invitation letter after your registration is completed. The document will significantly facilitate the visa application process for you. Please note that the invitation requires the applicant's name (written exactly as in the passport) and passport number. More detailed information concerning costs, time and conditions for preparing a Russian entry visa application is available on the official websites of Russian Embassies and Consulates in your country.
 
Registration and Fees:
Registration for the Conference is available on the website "Russian Maglev" www.rusmaglev.com.
Early bird (until March 1st, 2018): 490 € (approx. US$ 573)

Regular fee (starting March 1st, 2018): 750 € (US$ 877)

On Site registration: 800 € (US$ 936)

Students: Early bird: 70 € / regular 100€ (US$ 82 / US$ 117). Please note that students must provide a scan of student ID to have a special price

Pensioners/retirees: Early bird: 170 € / regular 250€ (US$ 199 / US$ 292)

For groups of five (5) or more regular participants, special price reductions may apply.  Please contact us by e-mail at

This email address is being protected from spambots. You need JavaScript enabled to view it.

For journalists, special terms may apply. Please contact us by e-mail at

This email address is being protected from spambots. You need JavaScript enabled to view it.

 
Cultural events and other activities can be booked separately.  
The Bronze Horseman (statue of Peter the Great) in the Senate Square in Saint Petersburg.
The organizers of the Conference are looking forward to meeting you in Saint Petersburg in September, 2018!
Join the Russian Maglev at Facebook 
https://www.facebook.com/rusmaglev/
Follow the Russian Maglev at Twitter @rus_maglev
MAGLEV 2018
The 24th International Conference
Together with MTST 2018 Conference
St. Petersburg, Russia, September 5 - 8, 2018
Emperor Alexander I. St. Petersburg State Transport University
In cooperation with The International Maglev Board
If you have subscribed to our newsletter, we will keep you informed through e-mail.