Shizuoka Prefecture is concerned that the water balance in the important Oi River will be severely disrupted by the construction of the tunnel for the Japanese high-speed Maglev system. The river is of considerable importance for the drinking water supply of some 600,000 people in the prefecture and is also important for the region's paper industry, which has a high demand for water. The prefecture is demanding the detour and complete return to the Oi River of all water that could be affected by the tunnel.
One of the reasons why the prefectural government and water users have demanded that JR Tokai guarantees to return the entire volume of water (from the tunnel construction is that JR Tokai has been claiming that there will be no impact from the construction of the linear railway line. JR Tokai has made several predictionsregarding the issue that seem insufficient from a scientific point of view. They lacked prior studies of geology, river flow, groundwater levels, and precipitation. It seems difficult to predict the extent of the impact when data is insufficient. The prefectural government has therefore demanded that all relevant data be researched and made available before a decision is made on tunnel construction ...
The
conflict
plays out against the backdrop of years of conflict of a fundamental nature between the prefecture and JR Tokai. The prefecture has long considered itself disadvantaged by JR Tokai, especially with regard to the connection of the prefectural airport and the city of Shizuoka by conventional Shinkansen trains. The
bitterness
in the prefecture about the plans and decisions of JR Tokai seems to be great.
While the prefectural government has consistently demanded the return of all water from the tunnel in order to avoid the impact of the construction work on the middle and lower reaches of the river, the Central Japan Railway Company has stepped up its insistence that the impact can be avoided. Without the prefecture's approval, JR Tokai will not be able to realize the tunnel for a long time. This is already
delaying the entire line construction
and the start of operations by years.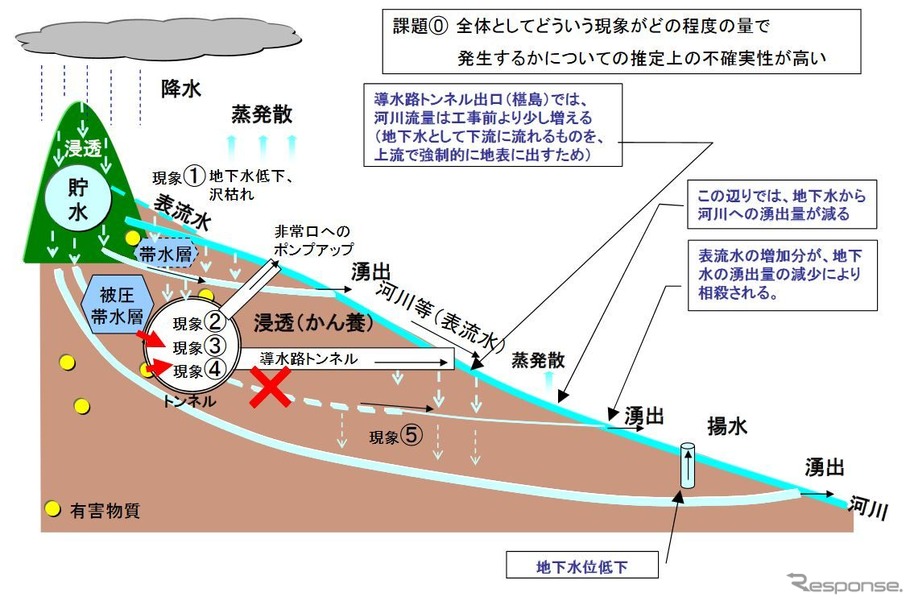 Source: 水資源をめぐるリニア中央新幹線の有識者会議が紛糾…赤羽国交相がJR東海に苦言
https://response.jp/article/2020/05/11/334444.html
Accessed 2021-04-05
The solution (in my opinion) will be a compromise that will require significant concessions from JR Tokai, including possibly a Maglev station in the prefecture (not planned so far), elaborate water return lines, and Nozomi Shinkansen stops in Shizuoka city.
For those who are interested in the overall context in more detail: Here is a link to a publication of the IMB on this topic:
https://www.researchgate.net/publicatio ... aglev_Line