Germany
Hermann Kemper (* April 5, 1892 Nortrup, Germany, in the district of Osnabrueck, † July 13, 1977) was a German engineer.
In 1922, Hermann Kemper began his research about magnetic levitation. It took him until 1933, when he succeeded in working out at technical concept for a floating vehicle, based on the principle of electromagnetic attraction. He applied for a patent, then at the "Reichspatentamt" in Berlin. He received it in 1934, under the patent number 643316. In the patent text, his invention was described as a "monorail vehicle with no wheels attached", that is kept floating by means of magnetic fields.

Hermann Kemper's invention laid the foundations for further technological progress in this field, which ultimately led to the development of the Transrapid system (Germany) and the Linear Motor Car (Japan) – two different technological approaches based on the same basic principle of attracting and repulsing magnetic fields.

For his scientific achievements Hermann Kemper was awarded the great Order of Merit of the Federal Republic of Germany, in 1972.

Patent: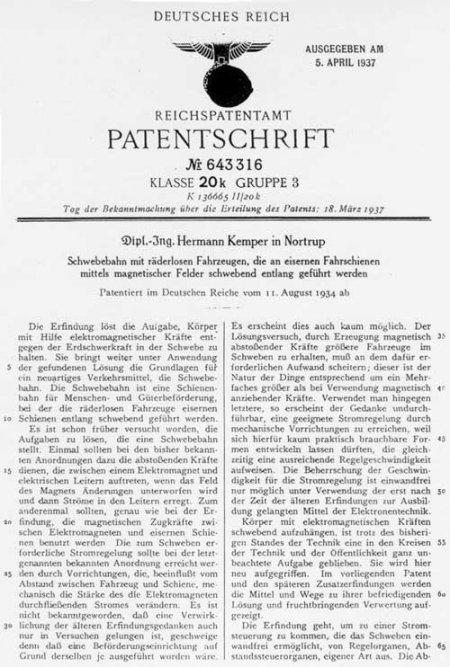 KEMPER, HERMANN: "Schwebebahn mit Räderlosen Fahrzeugen, die an eisernen Fahrschienen mittels magnetischer Felder entlang schwebend geführt werden. Deutsches Reichspatent Nr. 643316, 1934."